Durham Police crime figures surge 'due to Medomsley probe'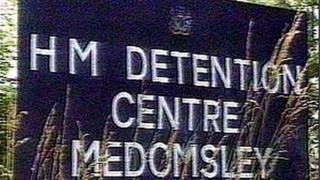 A police force that reopened an inquiry into historical sexual abuse has seen a surge in recorded crime.
Recorded crime in the Durham Police area went up by 12% since last year, more than any other force in England and Wales, Office for National Statistics (ONS) figures show.
The number of sexual offences investigated almost tripled, on 2012.
The force attributed the jump to claims of historical abuse at the former Medomsley juvenile detention centre.
The figures come from the Crime Survey for England and Wales (CSEW) and relate to the year up to June 2014.
Medomsley has been the subject of a renewed investigation into physical and sexual abuse of inmates.
Investigation ongoing
Two former staff members at Medomsley, which closed in the late 1980s, were jailed in 2003 for sexually abusing inmates, aged between 16 and 19.
Neville Husband and Leslie Johnson have both since died.
Last year however, Durham Police relaunched an investigation into abuse at the centre, when new evidence came to light.
Hundreds of alleged victims have since come forward with claims of abuse, according to police.
A spokesperson for Durham Police said: "To a large extent this figure can be explained by the hundreds of historical offences of sexual and physical abuse at the former Medomsley detention centre, which are subject to an ongoing criminal investigation.
"It should also be remembered that for several years we have seen crime fall in the Durham force area, so even though there has been an increase in certain categories the actual number of offences remains low, especially in comparison to many other areas."