Newcastle University student Vladimir Aust jailed over bomb scare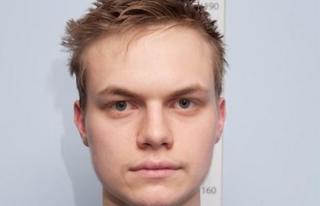 A 19-year-old Russian student who sparked a major scare after making explosives in his room has been jailed.
Vladimir Aust was arrested after a highly-explosive chemical was found in his room in June, prompting Newcastle University's campus to be evacuated.
He was arrested in London under anti-terrorism provisions, but Newcastle Crown Court heard those no longer applied.
Aust admitted making an explosive substance and was jailed for two years.
The hearing was told bomb disposal officers used a robot to recover the chemical hexamethylene triperoxide diamine (HMTD) - a substance too volatile for military or commercial use.
The chemical was destroyed in a controlled explosion on Newcastle's Town Moor.
Aust was arrested by police outside the Russian Consulate.
The court heard the teenager was fascinated by the military, weapons and pyrotechnics.
He caused a number of explosions in his room and the communal kitchen area in his hall of residence earlier in the year, using ingredients which he bought online.
The North East Counter Terrorism Unit recovered several items from Aust's student accommodation in Newcastle, including a notebook, a gas mask and knives.
He went on to mix powders and build detonators, creating a number of small explosions over several months.
'Potentially volatile'
Sentencing Aust, Mr Justice Coulson, said he knew the substance was dangerous and that he would have posed a further risk had he not been stopped.
But he also said there was no evidence of Aust having links to any dangerous political group, or evidence of him intending to attack any group.
Det Ch Supt Ian Wilson, head of the North East Counter Terrorism Unit, said: "A large amount of differing and concerning substances were discovered not just from his own room in the university accommodation, but within communal areas.
"Some of the items recovered are classed as potentially volatile and therefore could have put those within the vicinity at risk.
"Although there is no evidence or indication what Aust planned to do with the items he manufactured, the hours he spent researching and working on them is of great concern.
"It is thanks to university staff raising and reporting their concerns that police intervened and Aust could not take his obsession any further."
A spokesman for Newcastle University said: "The safety of our staff and students is always our top priority and we would like to thank Northumbria Police who we worked closely with throughout the incident."