Rivers Wansbeck and Blyth opened to breeding fish again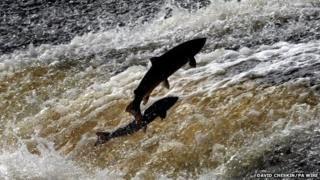 About 80 miles of river in the north east are being opened to salmon and sea trout for the first time in decades.
The Environment Agency has built fish passes at Mitford on the Wansbeck and Hartford on the Blyth to enable the fish to circumvent river obstacles.
Both projects are due to be completed in time for the autumn salmon run.
In the Wansbeck, fish will be able to reach traditional spawning grounds for perhaps the first time in centuries, the agency said.
David Kirkland, project officer at the Environment Agency, said: "Bringing salmon and sea trout back to the upper reaches of these two rivers will be a fantastic achievement.
"Their return will reflect significant improvements to river habitats and water quality that have been made in the north east over the past 20 years."
The fish passes work by raising the water level downstream of obstacles, such as wears and other man-made structures.
This reduces the difference in water level above and below the obstacle and so also the height the fish are required to leap.
The projects have cost the Environment Agency £440,000.