World War One airman John Herbert Hedley 'luckiest man alive'?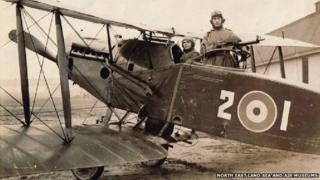 Despite numerous victories as an airman during World War One, it was Capt John Herbert Hedley's claim of surviving a bizarre flying mishap that really made his career. But could it be true?
John Herbert Hedley, born in North Shields in 1887, was an accounts clerk when he joined the Royal Flying Corps in 1914.
Promoted to captain whilst serving with the 20th Battalion Northumberland Fusiliers, he scored 11 aerial victories while flying a Bristol F2b Fighter.
But in the years after the war, it was not the flying ace's victories that dominated conversation, or held the attention of the audiences who heard him speak.
Captain Hedley was flying the two-seater Bristol Fighter over France in January 1918 with his pilot Lieutenant Jimmy Makepeace when near-disaster struck.
Makepeace put the plane into a steep dive and Hedley - so the story goes - fell out.
He claims to have fallen 700ft (213m) before landing back on the tail of the plane and crawling back into the cockpit as it came out of the dive.
'Very very lucky'
Gunners had to stand up to fire their guns from the aircraft, and there are a number of incidents of airmen coming out of their cockpits, but could Hedley's claim be true?
John Stelling, from the Land Sea and Air Museum, said: "Personally I'm not sure whether his story of actually falling out and tumbling down and falling back in is quite feasible.
"It's more likely that he would have fallen out of the aeroplane but still been holding on - or attached to - the aeroplane, then climbed back in the cockpit.
"In combat the gunner would be standing up to operate his guns and, if he was being attacked by a German aeroplane, he would have been standing up manning his gun ready for combat.
"Gunners never sat down - there was only a jumpseat.
"I would say he would have come out, but whether he actually came out then tumbled down a few hundred feet and fell back in again, he would be very, very lucky."
But David Hobbs, who served as a pilot in seven British aircraft carriers, said Capt Hedley's amazing feat "could well have happened".
He said: "There are recorded instances of pilots falling out of cockpits both in fixed wing aeroplanes and airships in the First World War, catching hold of some part of the airframe and crawling back in again.
"I know of one with a Spitfire and one with a Seafire [in World War Two], when the pilot ran up the engine.
"You usually had two mechanics who held the tail down and there are two instances where the pilot opened up and took off with two mechanics hanging onto the tail plane.
"Those are substantiated and true, so yes, I believe him."
On 27 March 1918, Hedley and and his pilot, Captain Robert Kirby Kirkman, were shot down and captured.
Hedley became a prisoner of war until he was repatriated on 13 December 1918.
After the war he emigrated to America and in the late 1920s began his new career.
Calling himself "the luckiest man alive", he spent his time as an after dinner speaker telling his story of survival.