Thieves steal van used by disabled boy's family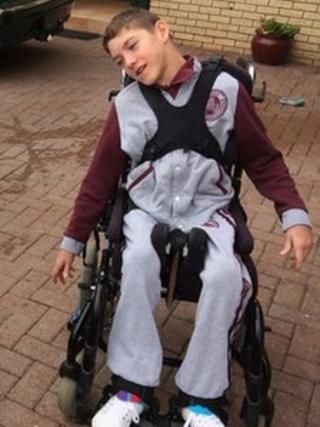 A County Durham mum said she has been left without vital support for her teenage son after a burglar took the family's specially adapted vehicle.
The white VW Caravelle, which has a rear lift and was valued at about £50,000, was stolen on Friday.
It is believed intruders entered the house in Witton Garth, Peterlee, through the adjoining garage.
Joanne Hall said the family cannot take 15-year-old Cameron, who has cerebral palsy, to hospital appointments.
Ms Hall, 34, had been asleep on the living room sofa, while her partner Chris Kitching and her 18-month-old daughter Olivia were sleeping upstairs.
Cameron was staying with relatives.
She said: "I woke up startled - a man was standing in the doorway.
"It was horrible. It's ruined our lives. We can't go out anywhere and can't take Cameron to hospital appointments.
"I can't sleep at all. I wake up all the time because of little, tiny noises."
Det Insp Dave Cuthbert, of Durham Police, said the family "are being put through a huge amount of stress and inconvenience".
Also taken was a 14ct strawberry gold engagement ring and a boxed iPad Air which was to have been a Christmas present for Cameron.