Chester-le-Street war memorial focus of Remembrance Day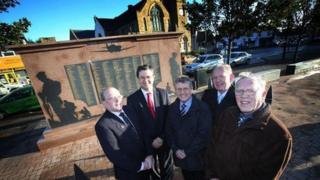 A new war memorial honouring hundreds of soldiers, some of whom fought in World War One, was the focal point of Remembrance Day in County Durham.
The £68,000 memorial in Chester-le-Street town centre, displays the names of 453 soldiers who are not listed on other memorials in the area.
A two-minute silence took place at 11:00 GMT, followed by a parade into the Market Place to pay tribute.
Remembrance Day parades have also taken place across North and South Tyneside.
This year marks the 100th anniversary of the start of WW1, 70 years since the D-Day landings and the end of Britain's conflict in Afghanistan.