Dog rescued from drains under school playing field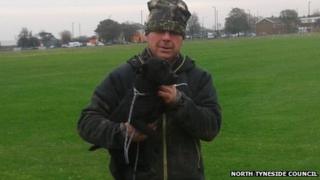 Rescuers had to consult plans of a North Tyneside School to release a dog stranded overnight in a drain under a playing field.
Ella, a Patterdale terrier, ran into a gully feeding into the drainage system of Monkseaton High School while walking with owner Andrew Kelly.
The animal could be heard barking but could not be coaxed out.
Council dog wardens used drainage plans to locate manhole covers, and managed to recover Ella through one of them.
Mr Kelly said: "I was absolutely devastated when Ella went missing, I really thought she was gone forever.
"After trying for ages to get her out, by shouting her name and leaving food for her, I had to leave as I work night shifts.
"My friends went along but they could only hear her cries."
'Go on forever'
The next morning, he returned and spoke to the school caretaker, who called the council.
"Next thing, there were loads of people there from different organisations trying to find her," he said.
"They then got drainage plans from the school so they could work out where the drains ran beneath the school playing fields, and find where the manhole covers were located.
"They lifted up several drainage covers - the drains look like they go on forever.
"But luckily, she was down one of them, 150 metres from where she entered it."
He added: "I couldn't be happier to have her back and I'd like to say a huge thank you to everyone involved."