Sunderland Wheatsheaf clock memorial dedicated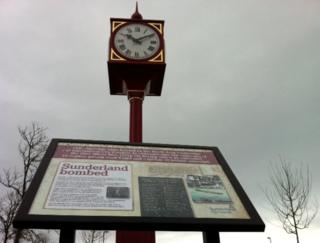 A £16,000 clock commemorating people killed in a World War One bombing raid on Sunderland has been dedicated.
The memorial at the Wheatsheaf junction in Monkwearmouth was unveiled at 11:00 GMT by deputy mayor Barry Curran.
He said although war memorials are mostly associated with active service deaths, "we must never forget" those civilians who died.
Twenty people were killed by bombs dropped by a German Imperial Navy Zeppelin on 1 April 1916.