Happy Chip in Newcastle sold legal highs to children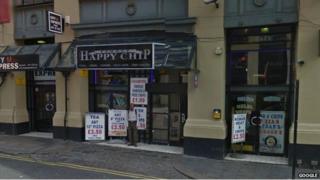 A takeaway has been caught selling legal highs to children, with no safety information or health warnings, police in Newcastle have said.
The Happy Chip, in Waterloo Street in the city centre, also sold a woman a tablet that left her critically ill in hospital in 2011.
Police carried out a test purchase, in which children went into the shop and bought bottled substances and a tablet.
Its licence to sell hot food after 23:00 has been revoked as a result.
Officers searched the premises following the test purchase earlier this year and found various legal highs, some of which had no packaging or information about what the drugs contained.
A hearing on Thursday found the takeaway had failed to protect children from harm and ensure public safety - part of the city council's licensing objectives.
Supt Bruce Storey said: "The takeaway came to our attention a number of years ago and we had real concerns about how it was being run."
He said the effort to review the shop's licence had been a "partnership effort" with other agencies and the result would "improve the safety and well-being of people in Newcastle city centre".