Boy shot in head in Chester-le-Street 'thought he would die'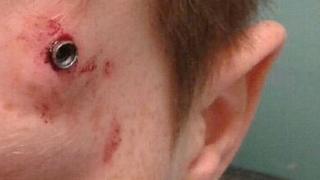 The mother of an 11-year-old boy shot in the head at a football match says he thought he was going to die.
Connor Minto was left with a pellet lodged near his eye after being hit during the under-12s game in Chester-le-Street, County Durham.
Three 14-year-old boys have been arrested in connection with the attack and bailed.
"It was quite traumatic for everybody. The pellet was well embedded into his forehead," said Kerry Minto.
She said Connor did not want to go back to the ground and needed reassurance it would not happen again.
"Physically he's fine but mentally it's really shook him up," she said.
"I keep looking at the photo and thinking that would have been his whole life affected if that had just been an inch or so lower. I can't even put into words how it makes me feel."
It is believed an air gun was used in the incident at Hermitage Academy on Saturday during the game between Chester-le-Street Town and Coxhoe.