Jarrow NHS walk-in centre closure approved by health chiefs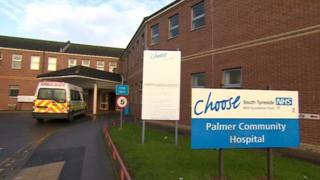 A walk-in centre is to be closed after South Tyneside health chiefs approved plans for an "urgent care hub" elsewhere in the borough.
Services at the walk-in centre at Palmer Community Hospital in Jarrow will move to South Tyneside District Hospital in South Shields.
The local clinical commissioning group say the change will reduce confusion and speed up diagnosis.
Campaigners opposed to the plan believe patients in Jarrow will lose out.
'Best care'
Services from the walk-in centre are due to be transferred in 2015.
Chairman of the clinical care group, Dr Matthew Walmsley, said: "This is not about making cuts - we are moving the walk-in centre to provide the best care we can for patients across the whole of South Tyneside.
"We have listened to the concerns raised by people in Jarrow and Hebburn and we are putting a number of measures in place to deal with these."
Dr Walmsley added the new facility would provide an alternative to queuing at A&E for minor ailments.
A public consultation on local health services was held from late May to the end of August.
It highlighted access to GPs "is an issue in some areas" and in a bid to tackle that a minor ailment and illness scheme will be put in place "in as many local pharmacies as possible", Dr Walmsley said.
The care group is also aiming to improve access to GP appointments in "key locations".
The feedback report can be read on the clinical care group's website.