County Durham gun amnesty haul includes WW2 rifle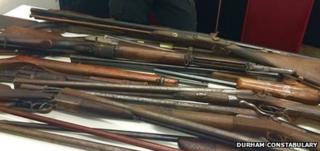 Pump-action shotguns, a World War Two semi-automatic rifle and a crossbow have been surrendered to police during an amnesty in County Durham.
Durham Police had said no-one handing in firearms and other weapons during the week-long dispensation would face prosecution for illegal possession.
Other items included starting pistols, rifles, a Victorian pocket revolver, air weapons, ammunition and cans of incapacitating spray.
The firearms will be destroyed.
A muzzle-loading shotgun was handed in by an 86-year-old man who said it had belonged to his grandfather.