Newcastle Airport lobbies over Scottish air tax fears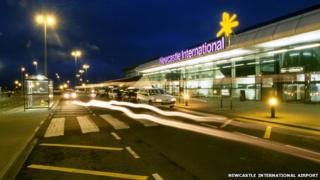 Executives from Newcastle International Airport are lobbying the government to protect it from a possible Scottish cut to air travel tax.
The Smith Report into devolved powers following the independence referendum recommends allowing Scotland to alter airport passenger duty (APD).
Newcastle airport said passenger numbers and jobs would be threatened by cheaper Scottish flights.
APD on flights leaving the UK ranges from £13 to about £400.
The government said it had "made a vow" of further devolution to Scotland and had set out ideas to help the north of England by building a "northern powerhouse".
'Slap in the face'
Airport chief executive David Laws said: "The prime minister said on 19 September that the devolution settlement had to be fair also to the people of the rest of the UK.
"We now want him to honour this commitment."
Either the duty should be reformed to avoid potential "distortions" or reductions in Scotland should be matched in the rest of the UK, he said.
The North East Chamber of Commerce said the power to change APD would be a "slap in the face" for the region's business.
Policy and research manager Mark Stephenson said: "Reaching a fair deal for Scotland as well as in UK regions is crucial, but it makes no sense to rob Peter to pay Paul".
When fears were first raised in June, Ivan McKee, from pro-independence group Business For Scotland, said any cut would be beneficial because "a growing Scottish economy would be good for the north-east of England".