Capt Richard Holloway inquest: Coroner breaks down in tears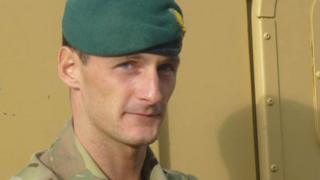 A coroner broke down in tears while summing up at the inquest into the death of a soldier in Afghanistan.
Capt Richard Holloway, of the Special Boat Service, was hit by enemy fire in 2013 while on operations east of Kabul.
The 29-year-old from County Durham was the 447th British soldier to be killed in the country since 2001.
Coroner Andrew Tweddle, whose son died in a car accident, said he would "feel very proud" to hear tributes to his son like those paid to Capt Holloway.
He concluded that Capt Holloway, from Hamsterley, died from gunshot wounds sustained while on active operational duty in Afghanistan.
The former Royal Engineer was shot in the pelvis and thigh during a night operation in mountainous terrain, the inquest in Crook heard.
His commanding officer, Officer C, gave evidence from behind a screen to safeguard special forces "operational effectiveness".
He told the inquest the operation was to take out high-ranking Taliban officials living in a rocky valley outside Kabul.
"Right when we started training for this specific role, I sat the whole group of my men down and said statistically one will be killed and four will be injured on this operation," he said.
"This is nothing out of the ordinary. It happens, unfortunately. It is part of the risk of taking the job."
'Died protecting freedoms'
Officer C carried Capt Holloway off the mountain but said he knew he was already dead.
The inquest heard 10 enemy fighters were killed, including one would-be suicide bomber.
Officer C said the operation was a tactical success, as it disrupted the Taliban psychologically in an area where they would assume they were safe.
"Rich died with a rifle in his hand, he died doing the job that he absolutely loved and he died protecting the freedoms the Afghan people enjoyed, like the people in the UK," Officer C said.
At the conclusion of the inquest, Mr Tweddle wept as he repeated Officer C's words and said: "I have difficulty saying this.
"My son died some years ago in a car crash. If someone had said to me what that officer had said, I would feel very proud."