County Durham drink-drive death family back safety campaign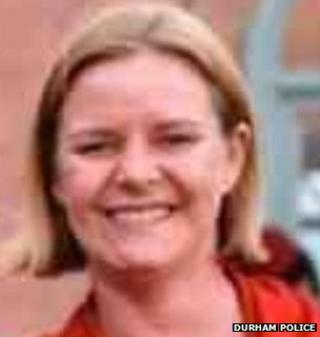 The family of a woman who was killed when a drunk driver crashed into her car at more than 100mph, are supporting a safety campaign in her memory.
Jacqueline Dowdall, 43, from Coxhoe, died in April 2013 when her car was struck by Craig Bourne's Kia Sorento.
Her family has joined forces with police in Durham and Cleveland to warn others not to drink and drive.
Bourne, who was more than twice the legal alcohol limit, was jailed for more than seven years.
Ms Dowdall's sister Vicky has joined police and doctors to tell of the horrors and emotional turmoil of losing someone to a drink driver.
She said: "It's a pain I've never experienced before and a year and a half later it's still there.
"I don't think time heals, I just think you have no choice but to learn how to deal with it."
Ms Dowdall said she is still angered by Bourne's actions.
She said: "My sister will never get to do all of the things she dreamt about and deserved, because someone decided to get into a car and drive whilst drunk.
"I will never forgive the man who did this to my sister.
"He has several years left in prison but at least he will have many Christmases to come with his family."
Bourne, from Rushyrigg in Blackfell, had been driving from Darlington to his parents' house in Washington when he collided with Jacqueline's car as she travelled to work.
In 2013, there were seven fatal collisions involving a drunk driver in the Cleveland and Durham force areas and 18 people were seriously injured as a result of a collision involving a drunk driver.