Sunderland's Roker Pier reopens after £850,000 repairs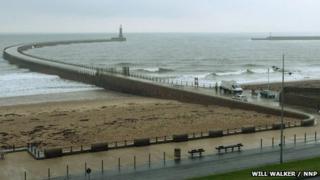 A Grade II-listed pier has reopened to the public after a £850,000 resurfacing and repair project.
Sunderland's Roker Pier had been damaged by more than a century of battering by the sea.
It was closed for the summer as repairs to the foundations involved divers, so it needed to be carried out while seas were less likely to be rough.
The 1,998ft (609m) long structure was described as a triumph of engineering when it opened in 1903.
A further phase of refurbishment work to the lighthouse and the tunnel has been scheduled for 2015, subject to a successful Heritage Lottery Funding bid.
Councillor Mel Speding, cabinet secretary at Sunderland City Council, said: "Roker Pier is one of our best loved landmarks.
"More than a century of North Sea weather had taken its toll on this popular landmark and we had got to the stage where we needed to replace the entire surface to protect the pier for future generations."