A1 upgrade 'vital' to the North East, says Cameron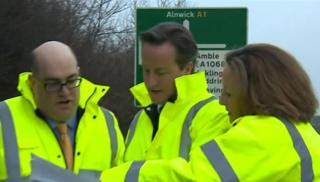 A £290m plan to part-dual the A1 north of Newcastle will help to rebalance the economy of the North East, prime minister David Cameron has said.
The pledge to upgrade a 13-mile stretch to Ellingham, near Alnwick, and create additional passing lanes, was widely welcomed by business leaders.
The proposal is part of a £15bn "roads revolution" for England announced by the coalition.
But Labour said the proposals were re-announcements of earlier promises.
Other schemes given the go-ahead in the North East include improvements to the A1 Gateshead Western Bypass and studies into the possible dualling of the A66 and A69 cross-Pennine routes.
Mr Cameron, who confirmed the improvements during a brief trip to Cramlington in Northumberland, said: "This has a lot to do with the fact that I want to see a rebalanced economy.
'Strong message'
"This is one of the premium exporting regions of our economy and it needs a modern road, rail and port infrastructure and I think this announcement will bring with it jobs and prosperity for the North East."
Liberal Democrat MP for Berwick, Sir Alan Beith, who has long campaigned for the A1 to be dualled, added: "This will send a strong message that we are open for business in Northumberland and that the world doesn't stop at Newcastle."
Alan Fergusson, boss of Northumberland-based haulier Fergusons Transport, said: "Obviously we would have liked the dualling all the way to Scotland, but we have still been given fantastic news.
"We have been campaigning for this for years and we have got a result."
But Michael Dugher MP, Labour's Shadow Transport Secretary, said: "This is just yet another re-announcement on promised road improvements.
"The government has 'announced' plans for road investment at least three times since 2013 and no additional money has been announced.
"Local roads have been completely ignored under this government. Maintenance investment in local roads has declined in real terms from 2010 to 2014."