Jarrow walk-in centre closure challenge 'disappointing'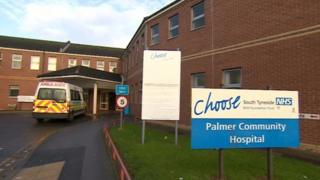 A challenge by councillors over the closure of a walk-in centre is not based on the best interests of the public, health chiefs have said.
South Tyneside Clinical Commissioning Group wants to replace the centre in Jarrow with an urgent care hub at the hospital in South Shields.
The council is to ask the health secretary to review the decision.
The group said it was disappointed the council wished to go against the views of local doctors and nurses.
Members of South Tyneside Council's Overview and Scrutiny Coordinating Call In Committee said the centre performed a vital service for those living in the area.
'Misleading the public'
The urgent care hub was a "necessary and welcome development", but it "should not be at the expense of the Jarrow centre until the problems around the access to GP services in Jarrow and Hebburn and South Tyneside as a whole are addressed."
Dr Matthew Walmsley, a local GP and chair of South Tyneside Clinical Commissioning Group said: "This challenge is not based on the best interests of the people of South Tyneside.
"Clinical opinion is clear that a single hub is the best way forward.
"There are absolutely no grounds to say that this will be detrimental to the health of the population and I would directly challenge the councillors over this.
"While the walk-in centre is convenient for people in Jarrow and Hebburn, it is clearly not the best location for the borough as a whole.
"It is scheduled to relocate in autumn 2015 with no interruption to the service, and for local councillors to say otherwise is deliberately misleading the public."