Ovingham house gable collapses in high winds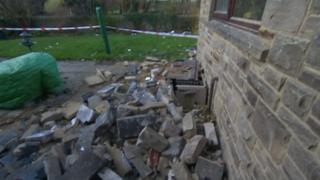 A woman has described the moment the gable on her house in Northumberland collapsed under the pressure of the wind on Tuesday evening.
The north of the UK was hit by high winds with gusts in some areas reaching 80mph.
"There was just this amazing "whoosh" sound, almost like when there's a real lot of snow come off the roof," said Marion Brown from Ovingham.
When she looked outside, she saw "masonry everywhere".
Ms Brown said: "When the building inspector came, he said it was safe to stay in the building. It wasn't a structural issue.
"He seemed to think it had been a build-up of pressure in the loft caused by the wind I think and that gable was the weakest point for it to come out."
She also found part of the ceiling in her kitchen had collapsed, leaving the room strewn with rubble.
She is hoping to get the damage repaired before Christmas.