Snow on A68 leaves up to 100 vehicles stranded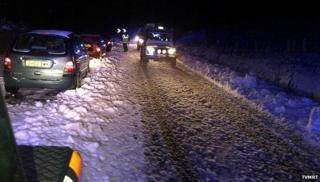 Up to 100 vehicles were stranded when snow blocked a section of the A68 on the England-Scotland border.
About 40 volunteers from three mountain rescue teams joined police in a three-hour operation to clear the road in the early hours of Thursday.
No-one was reported hurt, but the road was blocked in both directions around Carter Bar until about 02:00 GMT.
Forecasters say more snow is expected to fall across the North East on Thursday, mainly on higher ground.
A spokesman for the Tweed Valley Mountain Rescue Team, which is funded through donations, said the speed at which the snow came down took motorists by surprise.
He said: "There were about 70 vehicles stuck south of the border and another 30 on the Scottish side.
"The snow was only four or five inches deep, but it was the speed at which it fell that took everyone by surprise.
"We had to use our 4x4s to get the majority of the vehicles out.
"Ambulance crews were on standby, but after we had checked all the vehicles it was clear there were no casualties."
Volunteers from the Tweed Valley team were joined by those from the Borders Search and Rescue Unit and the Northumberland National Park and North of Tyne rescue team.
The spokesman added: "There were so many vehicles stuck that the snow ploughs just couldn't get through."