Barbour's Gateshead warehouse staff take further strike action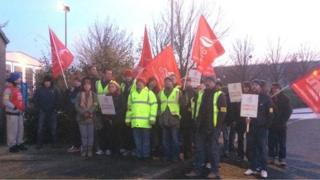 Staff at Gateshead clothing company Barbour have begun four weeks of strike action over pay and working hours.
Members of Unite at the firm's warehouse are walking out between 07:30 and 13:00 GMT Monday to Friday from 5 to 30 January.
The strike is in protest at contractual changes requiring staff to work until 22:30 and removing extra payment for unsocial hours.
Barbour said the new shift patterns included a "substantial pay increase".
The proposed shift patterns would be 07:00 to 15:00 and 14:30 to 22:30.
'Impact on supplies'
The strike follows earlier action in December.
Unite regional officer Fazia Hussain-Brown said: "Many of the workers struggling to get by on less than the living wage are the sole bread winner and have family or caring responsibilities.
"The company should not underestimate the resolve of the workforce nor the impact that four weeks of strike action will have on supplies."
A statement from the company said: "We feel we've done everything possible to work with the union and our employees to alleviate their concerns.
"The introduction of new shift patterns includes a substantial pay increase and standard working hours on a Monday to Friday basis."