Gateshead QE Hospital centre will be 'more efficient'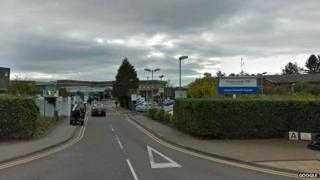 An emergency care centre set to open next month in Gateshead aims to treat patients more efficiently and avoid strain on the system, bosses said.
The £32m facility at the Queen Elizabeth Hospital will combine A&E with other services in a bid to ensure patients go to the right place.
Many hospitals in England have come under severe pressure this week, some declaring major incidents.
The QE hopes its new approach will help avoid inefficiency.
The building will include a walk-in centre, GP services and urgent children's services, as well as A&E.
There will also be single en-suite rooms and provision for dementia patients, the hospital said.
Nurses will assess people before deciding which part of the centre to send them to.
Clinical project manager Darren Makepeace said: "The [assessment] rooms are standard throughout the whole building, so whether you come in with a cut finger, or you're having a heart attack, you'll still be checked in the same rooms.
"The beauty of bringing all these services together is that it makes us more efficient. If you can get people to the right person first time it cuts out a lot of the repetition."
The centre is expected to open in late February.