Tyne and Wear Metro: Bosses probe power failures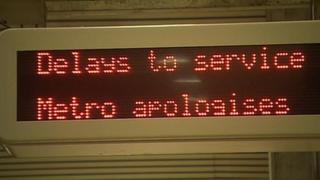 Transport bosses have apologised to passengers of the Tyne and Wear Metro who faced long delays for the second time in a matter of days.
Thousands of passengers were affected when the network suffered a massive power failure at about 06:30 GMT.
The light railway system suffered similar problems on 8 January.
Investigations are continuing into the cause of both incidents, but operator Nexus has pledged to make the network more robust.
Nexus said services were disrupted for about three hours in the latest incident.
'More frequent'
A spokesman said: "We are currently investigating the cause of the power fault as well as our own systems, how well we talk to passengers and how we can get back up father in situations like this.
"We've already identified a couple of things which can be improved and we are working on them now."
The Tyne and Wear Public Transport Users Group said delays were becoming more frequent.
A spokeswoman said: "I've been travelling on the Metro for the 30 years that I have lived up here and I've never known punctuality to be so bad as it is now.
"I think the public have an entitlement to a better service.
"People have recently had their fares increased, which adds to the agony."