Lumiere festival returning to Durham in November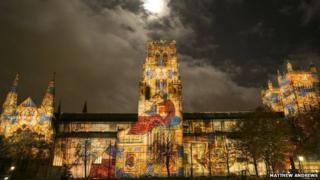 A festival of light which attracted more than 175,000 people to Durham when it was last staged is to return later this year, it has been announced.
Lumiere will run from 12-15 November, its fourth appearance having been held every second year since 2009.
Durham County Council leader Simon Henig described it as a "spectacular experience" which "provides a vital economic boost to the county".
In 2013, it featured 27 light installations across the city centre.
Among them were a 3D elephant and magnified pages from the Lindisfarne Gospels which were beamed on to the city's cathedral.
One of the companies behind the event, Artichoke, is offering people from the North East the opportunity to have an idea developed as an artwork.
The two-stage process will be judged by a panel with the final awards being announced in May.