Missing Euan Coulthard search 'scaled back'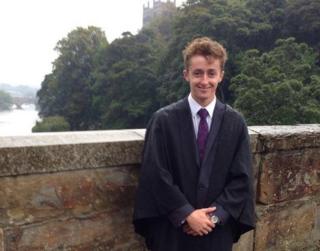 The search for a missing Durham University student has been "scaled back", police said.
Euan Coulthard, 19, was last seen in the city centre just after midnight on Wednesday after leaving a nightclub.
Friends raised the alarm on Thursday after he had failed to respond to texts and social media messages.
His mother, Hester Coulthard, said the family was "overwhelmed" by the efforts of the hundreds of students who were helping to find her "wonderful boy".
Supt Colin Williamson, of Durham Police, said periodic searches of the river ebbs and flows would continue and officers were "still hopeful" of finding him alive.
He said: "With help from our fire and mountain rescue and fell rescue colleagues, the river has been searched from 300m beyond Prebends Bridge back down to Finchale Abbey.
"Certain parts of the river at Chester-le-Street and Washington have also been searched.
"Despite this, there has been no change in terms of new information coming to light."
The law student, from Bottesford in Leicestershire, was captured on CCTV heading towards the river and soon afterwards his mobile phone was powered down.
He is the third Durham University student to go missing in similar circumstances in the city in 14 months.
A former student at Kings School in Grantham, Lincolnshire, assistant head teacher Nigel Barton described him as a "model student" and "talented sportsman".
"In his seven years at Kings, Euan was an exceptional student," he said.
"He was a joy to teach. Ever co-operative, ever cheerful.
"That's why he was so highly regarded by the staff and students at Kings."
Mr Coulthard's disappearance has prompted a review of safety along the banks of the River Wear in Durham.
Durham County Council pledged it as a 10,000-name petition called for improved safety in the area.
It also launched an online petition calling for repairs to battered paths, more CCTV coverage and for some riverside walkways to be gated at night.