Prince Charles sees electric cars at Nissan Sunderland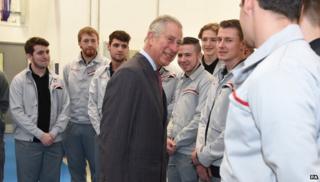 The Prince of Wales has has toured the Nissan car plant in Sunderland to see electric vehicles roll off the line.
He was at the factory where the only mass-produced electric car in the UK - the Leaf - is made.
He talked to some of the plant's 6,700 staff and walked through the production line, where eight million vehicles have been produced since 1986.
He also chatted to apprentices and later went on to visit schools in Sunderland and Newcastle.
Last year Nissan announced the company's new hatchback - the Infiniti Q30 - would be produced in Sunderland.
The company's £127m investment was supported by £8.2m from the government's regional growth fund.