Grindon Hall Free School in special measures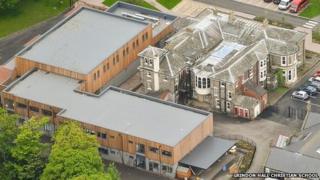 Ofsted has placed a Sunderland free school into special measures the day after another free school in the North East was closed by the government.
Grindon Hall Christian School has been rated inadequate by inspectors.
Principal Chris Gray said the November inspection was unfairly "hostile and negative", with Ofsted's conclusions failing to reflect the real school.
On Monday the government ended funding for Durham Free School after a damning Ofsted report
After a two-day visit to Grindon Hall, which has 590 pupils ranging in age from four to 18, inspectors said pupils showed a "lack of respect and tolerance towards those who belong to different faiths, cultures or communities".
'Offend consciences'
Mr Gray said Ofsted had been critical of the school for not celebrating other religious festivals.
He said: "This would breach our Christian foundation which stipulates that we are a Christian school.
"It would certainly offend against the consciences of many of our staff, pupils and parents.
"Learn about it, yes. Celebrate its festivals, no."
Ofsted also said there was too much variation in the quality of teaching, raised issues with the staff recruitment and said some students were not being engaged enough in the classroom resulting in them swinging on chairs or doodling.
Inspectors noted students were polite and courteous to adults but said there were incidents of pupils using racist and homophobic language.
Mr Gray said the report would "come as a huge shock to our parents, pupils and staff because they - along with anyone who knows us - will not recognise the school portrayed there".
He said: "We take any criticism seriously and aspire to the highest standards for our pupils.
"We continually strive to be better, but this report lacks any sense of proportion."
He said he is now submitting a formal complaint about the way the inspection was carried out and the subsequent report.