Missing Euan Coulthard: Friends mark anniversary of disappearance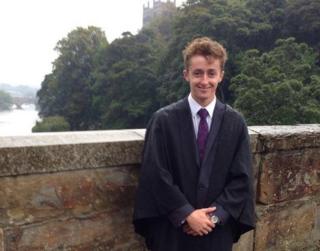 Friends of missing university student Euan Coulthard took to the streets of Durham to hand out posters a week after he disappeared.
The 19-year-old was last seen in the city centre just after midnight last Wednesday after leaving a nightclub.
An extensive search of the River Wear and surrounding land has failed to find any trace of the law student, from Bottesford in Leicestershire.
About 30 fellow students joined police in handing out posters near city bars.
CCTV footage showed a man, believed to be the St Mary's College student, leaving Loveshack at around 23.50 GMT last Wednesday.
He made his way towards Claypath and from there through the market place and down Silver Street, where he crossed Framwellgate Bridge.
The footage then showed him heading down the steps towards the river.
A Durham Police spokeswoman said: "Euan is a much-loved young man with many friends who are missing him and are keen to do everything they can to find him.
"While acknowledging that as time passes the chance of someone remembering something significant about Euan's whereabouts is slim, they did not want to miss an opportunity to highlight that it is a week since he disappeared.
"Hopefully their presence and contact with members of the public close to where he was last seen will have jogged the memories of people who were also out and about in that area last Wednesday."
A spokesman for Durham University added: "Euan's friends have shown tremendous courage by coming out and talking to the public one week after Euan went missing.
"The whole college community has been profoundly affected by Euan's disappearance and we are keen to support the police in any way we can with their inquiries."
Mr Coulthard is the third Durham University student to go missing in similar circumstances in the city in 14 months.
The disappearance has prompted Durham County Council to pledge a review of safety along the banks of the River Wear in Durham.