IPCC investigates Matthew Drummond bus death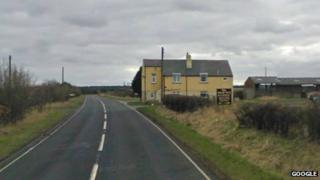 The Independent Police Complaints Commission (IPCC) is investigating how officers dealt with a man who died after he was hit by a bus.
Matthew Drummond, 38, was arrested in Berwick, Northumberland, on 12 November and taken to hospital as he was drunk.
After first refusing to leave hospital, Mr Drummond left on foot at 01:00 GMT. He was later hit by a bus on the A1068.
The IPCC said it was looking at a "series of interactions" between Northumbria Police and Mr Drummond.
The investigation will look at:
The actions and decision-making of the police officers who arrested Mr Drummond
The circumstances around police attendance at the hospital and the decision to allow him to leave the hospital
The actions of police officers who attended the scene after the collision
IPCC commissioner, Carl Gumsley, said: "I would like to express my condolences to Mr Drummond's family at this difficult time.
"The investigation is making good progress as we seek to establish exactly what happened during the various interactions between Mr Drummond and Northumbria Police."