Disabled Gateshead man attacked by mugger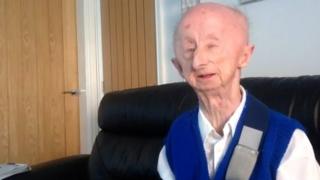 A frail and visually impaired man's collarbone has been broken in an attempted mugging outside his house.
Six-stone Alan Barnes, 67, who is 4ft 6in tall, has lived with disabilities from birth after his mother contracted German measles when she was pregnant.
Mr Barnes, of Low Fell, Gateshead, was assaulted as he put out his bins on Sunday evening.
Police are appealing for information to track down the "cowardly" robber, who fled empty-handed.
'It's disgraceful'
Mr Barnes said: "I was moving my wheelie bin round from the back of the house to beside the front door. A shadow came on my left-hand side.
"It was a lad who said, 'Hand over your money'.
"I said, 'I haven't got any'. He pushed me to the ground and put his hands in my pockets. I shouted for help and he went."
Mr Barnes, who is now living with his sister, added: "I couldn't live there after that. I won't be able to go back to that house."
Det Con Chris Neil, of Gateshead CID, said: "This was a cowardly assault on a vulnerable man who wasn't able to defend himself.
"His disability means he is partially sighted and quite short and it's disgraceful that someone would target him.
"The victim is quite a well-known man in the area and this has left him extremely distressed."