Newcastle Sure Start services to be reduced in affluent areas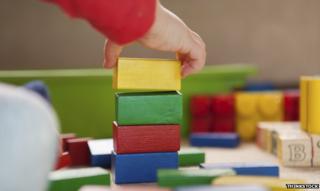 Plans to cut Sure Start children's services in Newcastle have been given approval.
Newcastle City Council said it needed to cut its budget for the centres and concentrate them in the most deprived parts of the city.
The council said it was the fairest solution but critics believe it could have long-term detrimental effects.
Sure Start was set up by the Labour government to give parents of under-fives parenting and health advice.
'Short sighted'
Labour councillor Joanne Kingsland said: "Whilst there has been a challenge to us that we should continue that provision right across the city, actually that would dilute it to such an extent that it wouldn't be the same valuable service that we have now."
Vanessa Cutter, from the organisation Parents Against Cuts, said the loss of support was short-sighted.
"People won't be as good as a parent as they can be," she said.
"That could have implications further down the line when children come to school, they won't be as prepared for school, and also possibly the need for more social service interventions later down the line."
The council said the move was part of a planned £4.67m reduction in the £11.7m Family Service's budget.
It said it was working to minimise compulsory redundancies among Sure Start staff.