Sunderland drug abuse treatment 'serious failings' revealed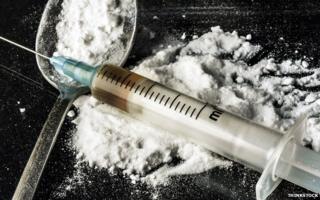 A confidential independent report commissioned by Sunderland City Council and obtained by the BBC has revealed serious failings in the treatment of substance misuse in the city.
It uncovered complaints over a backlog of cases waiting for treatment, linked to staff shortages.
It also described treatment of the most vulnerable clients as in "crisis".
Sunderland City Council said it was working with three bodies delivering treatment to ensure they improve.
It reorganised services for alcohol and drug treatment in 2013, partly to make budget savings.
Services are now commissioned by the council but delivered by outside providers, including the charity Turning Point which assesses cases and refers people to other organisations for treatment.
'Failed my son'
The review, commissioned last year, found the council was missing its targets on the numbers completing drug treatment successfully.
Cath Wareing from Washington, whose son David Pace died of a heroin overdose last year, claims he would be alive if he had been given the treatment he needed.
"I genuinely believe the system has failed my son," she said. "He was very, very scared. He knew he needed help."
She said the crisis team offered her support, "but it wasn't me that needed the help".
In a statement, council public health portfolio holder John Kelly said he recognised "some elements of the drug and alcohol treatment services are underperforming".
The authority was working to address these issues, despite severe financial constraints, and was now looking at a "revised model of treatment which will be considered by the city council in the near future", he said.
Turning Point said "vast improvements have been made to the service since this report was written last year, including the reduction of waiting times to no more than five days".
Council Conservative opposition leader Lee Martin said, with commissioned services, the council should "focus relentlessly on contract monitoring and on the outcomes that are delivered".