Easyjet axes Newcastle Gatwick route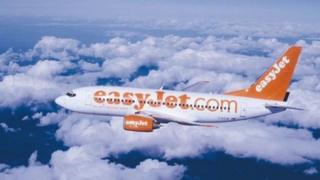 Easyjet is to axe its service between Newcastle and London Gatwick.
The budget airline, which offers 11 flights each way every week, said the decision followed a review.
It said: "The route will cease to operate from 27 March because passenger demand has not been at a viable level to maintain it."
Newcastle Airport said it was disappointed with the decision, but had secured a deal with Flybe for a London Stansted service.
Easyjet said: "We apologise for any inconvenience caused.
"We continue to serve the North East with 16 other exciting destinations across Europe, from Malta to Geneva to Rhodes."
Graham Mason, from Newcastle Airport, said that landing fees at Gatwick, together with air passenger duty, had had an impact on regional services.
He said: "Actually demand from the North East was strong, but it wasn't so strong the other way.
"We haven't just sat back, but have secured a deal with Flybe for a Stansted service starting in March, and will be looking at other possibilities."