Exhibition shows Gateshead's long-gone slum housing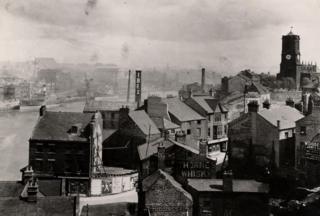 Photographs showing long-gone slum housing on Tyneside have gone on display.
Called Secret Streets, the exhibition shows the medieval, Georgian and Victorian streets of Gateshead that were demolished between the 1930s and 1950s.
Many of the images of housing to the west and east of the Swing Bridge on the quayside are being shown in public for the first time.
They were taken at the request of Gateshead's medical officer for health and chief sanitation officer, who inspected hundreds of homes following the introduction of the Housing Act in 1930.
Simon Green, curator of the display at St Mary's Heritage Centre, said: "It was a Victorian boomtown in as much as the railway industry came to Gateshead, and people from Ireland and Scotland came.
"The place was a bustling hive of activity and those people needed to be housed.
"There were big buildings with many, many rooms and lots of lodging houses."
Living spaces left much to be desired.
"It's clear from health reports that conditions in these areas were dire," said Councillor Peter Mole, Cabinet member for culture, sport and leisure.
"Sanitation was medieval at best and industrial and human waste was quite often just thrown into the street.
"There's no question that, when it came, the massive improvement programme was certainly necessary though it did result in the loss of much of old Gateshead.
"Fortunately, this remarkable collection of photographs provides a clear snapshot of what life must have been like in the long-forgotten slums on Gateshead's riverside."
Secret Streets is at St Mary's Heritage Centre, Oakwellgate, Gateshead, until 28 March. Admission is free.