Alan Barnes fund: Donations halted for mugging victim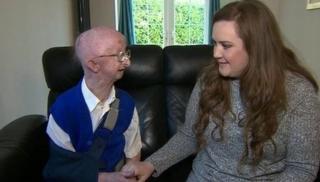 An online fund launched after the mugging of a frail Tyneside pensioner has been halted, with donations standing at more than £329,000.
Beautician Katie Cutler set up the Help Alan Barnes online donation page on Go Fund Me after the 67-year-old was attacked outside his Gateshead home.
Ms Cutler posted on the site that visually impaired Mr Barnes had asked that no more donations be made.
A reward of £5,000 has been offered for information about the attack.
Mr Barnes suffered a broken collarbone in the 25 January assault.
Ms Cutler said a ceremony was being planned at which Mr Barnes would receive a cheque.
No arrests
She posted: "After speaking with Alan and his family, they have asked me to stop any further donations to his fund.
"He is very grateful for all your love, support and donations.
"We will be having a little presentation to hand him his cheque."
Ms Cutler's campaign attracted more than 28,000 donations, with amounts varying from £1 to £1,000.
According to the Go Fund Me site's terms and conditions, the organisation deducts 8% from each donation in administration and processing fees - equivalent to more than £26,000 on the £329,566 raised by 09:00 GMT.
When Ms Cutler set up the fund for Mr Barnes, she said the intention was to raise £500 to buy him new carpets and curtains.
Mr Barnes lived with disabilities from birth, after his mother contracted German measles when she was pregnant. His family said the money raised would go into a trust fund for him.
No-one has been arrested over the attack, but the charity Crimestoppers has offered the reward for information that leads to the conviction of those responsible.
Go Fund Me said the fundraising campaign was its sixth largest "of all time".