Durham student drownings: No extra River Wear patrols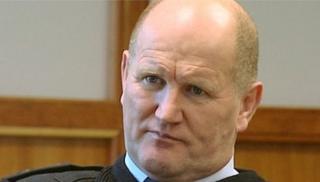 Durham's chief constable has ruled out providing more officers to patrol the banks of the River Wear in the wake of three student drownings in 14 months.
Mike Barton said it was "ludicrous" for officers to be put on riverbanks to stop "bright young things falling in."
Euan Coulthard, 19, is the latest student to die in the river. His body was recovered last month.
A riverside safety review was promised by Durham County Council after the latest tragedy.
Durham University undergraduates Sope Peters and Luke Pearce have also drowned in the Wear following nights out.
Last week police and fire officers saved another 20-year-old student who had fallen into the river.
'Paralytically drunk'
Mr Barton said students in the city needed to drink more responsibly.
He said: "One thing connected these three young men who died in the river and that was they were so paralytically drunk they were not in control of their bodies.
"They have then walked or stumbled into the river.
"Some people are saying this means we have to fence off the river. No we don't.
"What we need to look at is the personal responsibility of young men and women who are coming away to university, starting their lives and who need to behave a bit more socially responsibly.
"I was incensed when I heard some representatives of the student body saying the answer is for more police officers.
"It is ludicrous that society is asking me to put police officers on the riverbank to stop bright young things falling in. What sort of world have we come to?"
'Hot spots'
But Pippa Cole, who is an editor of Durham University's student newspaper said better safety along the river was needed.
She said: "Obviously there is the issue with alcohol because it seems as though all of these students were intoxicated when they fell in the river.
"But also there is a reason why all this is happening in Durham and if you go down to the river it is clear to see that there are definite hot spots, where it is extremely dangerous even to a sober person."
A City Safety Group - made up of the county council, the university, the students' union, police and the cathedral in Durham - has said it would attempt to re-establish a night-time bus service and set up a high-visibility welfare unit for students.
It also said it would explore measures to tackle the availability of cheap alcohol and develop an arrangement with taxi operators to allow at-risk students a safe method of getting home.
Durham University acting vice-chancellor, Professor Ray Hudson, said: "Durham University's senior management is treating the matters of student safety and excessive alcohol consumption with the utmost seriousness.
"We are committed to taking action but we recognise that these are issues which can only be addressed through a multi-agency approach."