Alan Barnes fund: Presentation ball to be held in Newcastle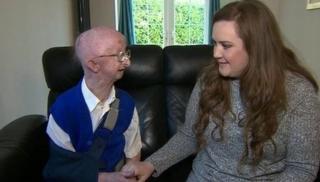 Disabled mugging victim Alan Barnes is to receive more than £300,000 raised through online donations at a gala ball later this month.
The frail 67-year-old suffered a broken collar bone in an attack outside his Gateshead home on 25 January.
Beautician Katie Cutler launched an online fundraising campaign, which raised £330,135 in less than a week.
The event, which will be open to the public, will take place at Newcastle's Assembly Rooms on 13 February.
Ms Cutler originally hoped to raise £500 to buy Mr Barnes new carpets and curtains.
'New adventure'
But the campaign quickly snowballed and attracted donations from almost 25,000 people from all over the world.
Ms Cutler said: "Next Friday we are hosting a presentation ball at the Assembly Rooms to present Alan with his cheque.
"The event is by invitation only, however we have 150 tickets on sale to the public for £10 each.
"If nothing else, everyone will be able to meet Alan and celebrate what is yet to be his new adventure."
She added: "Thank you again to everyone who has supported Alan and I, we've had a lifetime of lovely wishes in the space of a week and I can't explain in words how much that means to us both."
No-one has so far been arrested in connection with the attack, but a £5,000 reward has been offered for information leading to a conviction.