Newcastle Brown Ale: Recipe change amid US colouring concerns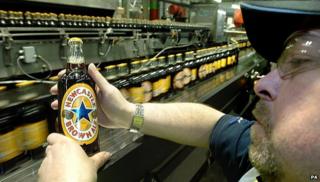 The recipe for Newcastle Brown Ale is to change amid US fears it contains a potentially cancer-causing colouring.
Brewer Heineken said the move was prompted by customer concerns about a chemical found in the caramel colouring used to give its distinctive tint.
None of the beer's ingredients are subject to any restrictions, but Heineken said it was "listening to consumer concerns".
It said roasted malts would now be used to achieve a similar colour.
Dubbed "Newkie Brown" by many, the beer first appeared in 1927, with production moving out of Tyneside to North Yorkshire in 2007.
The beer is one of the best selling in the United States, where, as in the UK, it is also nicknamed "Dog".
The nickname comes from the euphemism "I'm going to walk the dog", meaning "I'm going to the pub". It was also popularised by a 1980s advertising campaign.
Some North American consumers have expressed concern about a chemical called 4-methylimidazole (4-MEI), which occurs in the caramel colouring used to achieve Newcastle Brown Ale's distinctive dark brown colour.
---
Newcastle Brown Ale
The distinctive brown ale was first produced at the Tyne Brewery in Newcastle in 1927
Its Blue Star logo was put on the bottle a year later and appeared on the shirts of Newcastle United for several years
The beer is exported to more than 40 countries
In 2004, then owner Scottish and Newcastle announced the closure of the Tyne Brewery
In 2007 production was moved to Tadcaster in North Yorkshire by current owner Heineken
---
A spokesman for the Dutch-based brewer said: "We can confirm that we are in the process of changing our recipe for Newcastle Brown Ale - sold in both the UK and the USA - and it will no longer include caramel colouring.
"Caramel colouring is found in many of the food and beverage products that we all enjoy, including many beers, and is permitted by recognised food standards bodies.
"The amount used in Newcastle Brown Ale is well within the recommended safe levels set by these bodies.
"However, we listened to consumer concerns that have been expressed, particularly in the USA, and chose to review our recipe.
"The change will be phased in to new stock over the coming months, and only when we have confirmed that colour and taste meet the precise standards called for in the beer's specification."
'Cupcakes more worrying'
North East beer expert and writer Alastair Gilmour said the recipe change was not likely to impact on taste.
"It's about customer appeal in America", he said. "Tweaking with the colour won't have any impact on the taste of Newcastle Brown.
"Chemicals of some sort are always used by big brewers to make sure there is consistency with the product wherever it's sold.
"I'd be more worried about the chemicals in cupcakes than those in Newcastle Brown Ale."
Other drinks manufacturers, including Coke and Pepsi, have also cut their use of 4-MEI after some studies linked it to cancer in mice and rats.
The state of California also added 4-MEI to its list of carcinogens (substances directly involved in causing cancer).