Sunderland fire station: Protest over closure plan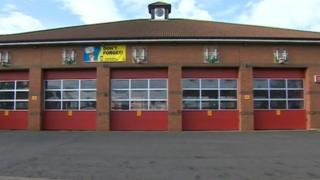 Opponents of plans to close Sunderland's city centre fire station have taken to the streets.
The site is one of three which Tyne and Wear Fire Authority says have to go to save almost £9m from its budget.
The Fire Brigades Union (FBU) has condemned the plans, claiming lives will be put at risk.
More than 200 people marched through the city centre on Saturday and promised to lobby a meeting of the authority on 16 February.
An FBU spokesman said: "The only way we can properly protect our communities is to have a proper functioning fire service. We need investment in services, not cuts."
A spokesman for the Tyne and Wear Fire Service said it was losing 26% of its funding.
"Closures are a last resort and any changes will not affect safety," he said. "We, too, are lobbying against financial cuts."
Other stations set for closure in 2017 are in Wallsend and Gosforth.