AA 'to cut 300 jobs', motoring organisation announces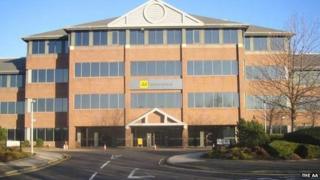 The AA is likely to cut 300 mainly back office jobs while creating 50 roles, the motoring organisation has said.
Detailed plans have not been finalised, but executives have been undertaking a business review since last summer.
It is understood many of the job losses will be in Newcastle where its call centre activity is focused.
The AA, which employs about 8,000 people, said it has started discussing redundancies with the trade union IDU, its management forum and employees.
In a statement, the firm which has its headquarters in Basingstoke, Hampshire, said: "Depending on the outcomes of management forum, staff and union consultations there is likely to be a reduction of approximately 300 posts (including some vacancies) with 50 new posts also created.
"The reduction would be drawn principally from administrative back office functions, but the AA also intends to hire more frontline roadside personnel.
"The objective of these plans is to ensure that the AA focuses its resources on its customers and members while operating as efficiently as possible."
Alistair Maclean, IDU national secretary, said: "We started the consultation process yesterday and the company set out all their proposals in terms of reductions across the whole of the company.
"The total headline figure was 300 although a lot of those positions are currently vacant. In Newcastle, the headline figure is 58 but that includes posts vacant, so the actual figure will be more like 47.
"We believe we should be able to see most of those jobs go through voluntary redundancies. We are optimistic we can do that."