Illegal fuel station dismantled in Sunderland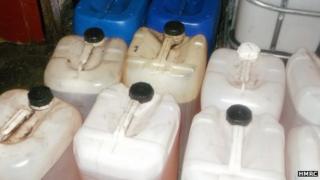 An illegal fuel station, capable of evading £1.4m in tax duty, has been destroyed after a raid on a business premises in Sunderland.
HM Revenue and Customs (HMRC) said the unit had the potential to produce 2.5 million litres of illicit fuel a year.
Northumbria Police also seized 3,200 litres of illegal diesel as well as fuel pumps.
No arrests have been made. HMRC said it believed the unit was being used as a garage to give drivers cheap fuel.
Pat Curtis, national oils co-ordinator for HMRC, said: "Fuel laundering is a dangerous activity. We believe that fuel was stored, laundered and sold from this property, without any safety precautions, endangering any motorist buying fuel there.
"Motorists may think buying illicit fuel is a bargain, but they have no idea what they're getting."