Machete attacker Gary Johnson jailed for 22 years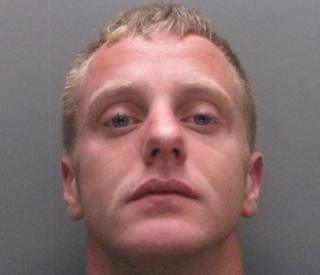 A man who attacked his ex-girlfriend's new partner with a machete has been jailed for 22 years for attempted murder.
Gary Johnson, 26, from Pelaw Avenue, Chester-le-Street, burst into Holly Dobson's house in Stanley as she and Christopher Spinks slept.
He cut wounds into Mr Spinks' scalp, nose and cheek, sliced through to the bone in his leg and split his left ear.
The judge at Newcastle Crown Court said the attack could have killed Mr Spinks.
Mr Justice Males imposed a restraining order preventing Johnson from going within 100m of the couple.
The court heard how Johnson had a conviction for violence against Ms Dobson and was "intensely jealous" of any contact she had with other men.
Outside court Det Insp Gavin Heckles said the "savage and premeditated assault" in August had left Mr Spinks with serious psychological and physical injuries.
"Johnson showed no remorse at any time during our investigation," he said.