Chester-le-Street swan deaths: RSPCA consider poison theory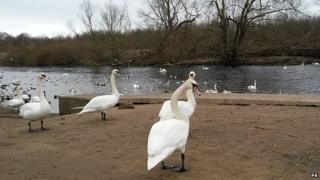 Animal welfare officers in County Durham are investigating whether more than 20 swans have been poisoned.
The birds were among a group of about 100 that live on a section of the River Wear which passes through Riverside Park in Chester-le-Street.
The RSPCA said it was possible they had been deliberately or accidentally poisoned or died of a natural illness.
One theory is that mouldy bread, which is poisonous to swans, may have been fed to the birds.
RSPCA chief inspector Michelle Charlton said: "Just over 20 swans have been found dead, or so sick that they've had to be put to sleep, on the river over the past few weeks.
"Calls started coming in about them in January and RSPCA officers have picked several up over the past few days.
"Tests are being conducted on the birds but at the moment we have no idea what the cause is, whether it's the result of a deliberate act or a naturally occurring illness."
She said the charity was "very concerned" and was working with The Swan Trust, vet practices, the Environment Agency and the police to try to find out what the cause was.
"We'd like to appeal to the public to be vigilant, and if they come across anything they think might be being dumped into the water to contact us," she said.
A sign which was erected some time before the recent spate of deaths asked the public not to feed the birds mouldy bread as it is poisonous to swans.