'Five-legged sheep' Quinto gives birth to twins in Morpeth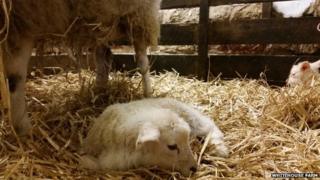 A sheep born with five legs has "defied the odds" by giving birth to two healthy lambs, a Northumberland farm has said.
Quinto made news around the world after being born with an additional front limb at Whitehouse Farm Centre, in Morpeth, in 2013.
She has given birth to Susie and Sofie, neither of whom have any extra limbs.
Karen Lovatt, general manager, said the farm was "delighted" with the new arrivals.
Ms Lovatt said Quinto's fifth leg was initially viewed with scepticism, with some people saying it was an April Fool's joke.
She quickly became a star attraction at the farm and made the news in Canada, China and Australia, Ms Lovatt said.
However, her extra limb was later removed after it became a "hindrance".
Ms Lovatt said: "She was operated on at the farm which was a little more complicated than first thought, but thankfully she made a good recovery.
"Many visitors have followed her progress and still often ask after Quinto."