Newcastle Racecourse U-turn over picnic ban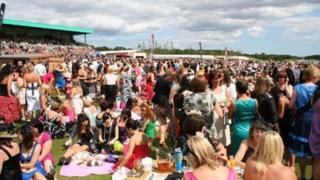 Newcastle Racecourse has reversed plans to ban picnics at summer race meetings.
Course owners Arena Racing Company said the ban was prompted by health and safety concerns as picnic furniture created "potential trip hazards."
The announcement prompted about 500 people to support a Facebook campaign condemning the proposals.
The course's executive director David Williams said officials had "listened to customer feedback" and come up with an alternative solution.
Now space for up to 4,000 picnickers is to be created within the course's existing Grandstand Enclosure.
'Dampen enjoyment'
Mr Williams said: "Overcrowding due to picnics spreading out was causing issues that compromised the enjoyment of other racegoers and restricted movement around the various enclosures.
"The decision to change the policy was by no means entered into lightly, however we have listened to feedback and the team have looked at a solution that will still address our concerns over safety, whilst giving people the option to picnic on the inside of the enclosures should they wish.
"Race goers will now have the option to buy a specific picnic enclosure badge that will allow up to 4,000 people to picnic in an area of the Grandstand Enclosure.
"We certainly don't want to dampen anyone's enjoyment of a day at the races which is a fun, social occasion to be enjoyed by all."
After the proposed ban was announced, the Health and Safety Executive (HSE) said it was "puzzled" by the move, adding that no health and safety regulations applied to picnics at racecourses.