Chester-le-Street swan death tests show lead poisoning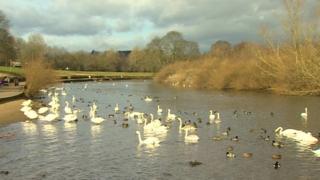 Almost 40 swans and cygnets are likely to have been deliberately poisoned at a County Durham park, according to the vet who has treated them.
Gillian Maxwell said tests on dead birds showed high levels of lead.
She said people could be poisoning bread with lead powder and feeding it to the swans.
The birds are among a group of about 100 living on a section of the River Wear that passes through Riverside Park in Chester-le-Street.
The RSPCA, Durham Police and the Environment Agency are investigating.
Ms Maxwell, of Cestria Veterinary Centre in Chester-le-Street, said there had been 20 swan deaths this year.
No natural pollution
But she revealed previous months had also seen a rise in cases, bringing the possible number up to almost 40.
She said: "The results of post-mortem tests on dead birds that have come back so far show that they all died as a result of lead poisoning.
"Whilst we've found very high levels of lead in their bodies and stomachs, no visible evidence, such as lead shot or shreds have been recovered.
"Tests by the Environment Agency have failed to find any evidence of natural pollution in the river, which reluctantly leaves us with deliberate poisoning.
"We now think lead powder, which is readily available on the internet, may have been used.
"We are worried that some people may be rolling this powdered lead into bread balls and feeding them to the swans."
The RSPCA has asked the public to be vigilant and contact them if swans are seen in distress.
A spokeswoman said: "We are very concerned at what has happened and we will continue to work with the Swan Trust, vet practices, the Environment Agency and the police to try to find out the cause and who may be responsible."