Parents and teachers at closure-hit Durham Free School seek legal advice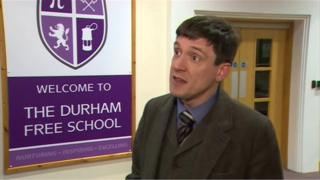 Parents and teachers at a failing school which is facing closure are seeking legal advice to see if they can keep it open.
In January, the government pulled the plug on funding for Durham Free School - which only opened in 2013 - after Ofsted rated it inadequate.
The school submitted an improvement plan but it was rejected.
Parents held a meeting on Thursday to discuss the closure. They said they were "devastated".
Chairman of governors John Denning said he was consulting legal advisors to see if they could keep the school open without government support.
The school has been told it must shut at Easter by Education Secretary Nicky Morgan.
Parent Dave Lewarne, who attended a meeting at the school with other parents and teachers, said: "I am totally devastated and shocked by what has happened - it is totally disruptive to kids' lives.
"We are seeing the destruction of a school and it is really sad to see.
"The school has jumped through hoops and ticked every single box - it is doing exactly what it is supposed to do but every single thing is being ignored."
Ofsted inspectors highlighted problems with bullying and poor pupil attitude at the school.
They also said the school's curriculum was failing to help students understand British values.
A letter to the school from Janet Renou, regional schools commissioner for the North, said: "Having considered the academy trust's representations, the secretary of state does not consider that you have provided sufficient evidence to show the trust has the capacity, or a suitable strategy, to bring about the necessary improvements."
The school will be the third free school to close since they were unveiled in 2010.
Parent Gail Collingwood said: "I am very concerned. My child went to a local authority school and they aren't for everyone. My child is comfortable and confident at this school."