Chester-le-Street swan deaths: More birds poisoned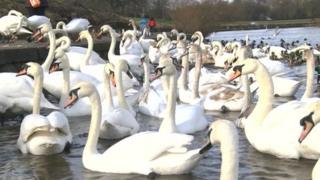 There have been more deaths at a swan colony which has already lost 50 birds in two months, animal welfare officers say.
The group of about 130 on the River Wear in Chester-le-Street has been reduced to fewer than 80.
Two more have been found sick and two dead, one after flying to Herrington Country Park about six miles away, the RSPCA has said.
Tests have revealed a form of lead poisoning is killing the birds.
It is still not clear whether its being done deliberately or happening by accident, an RSPCA inspector said.
Bryan Moffitt said it was not uncommon for the birds to fly between expanses of water in the area but there had been no reported deaths anywhere else locally.
"We're attending most days now, just to check the river side," he said. "You just feel so helpless".