Northumberland cycle path gravel too 'rough' for cyclists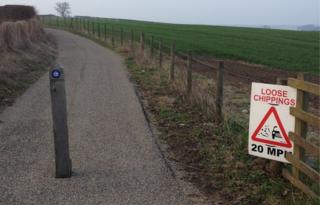 A cycle route resurfaced at a cost of £200,000 has been left covered in gravel and unusable, cyclists said.
Tarmac was laid on a section of the Sustrans national cycle network between Warkworth and Alnmouth in Northumberland last year.
A covering was added seven months later that punctured tyres and was "like riding on marbles", cycle shop owner Mark Breeze said.
Northumberland County Council denied the wrong material had been laid.
"They tarmaced it and it was fantastic," Mr Breeze said.
"It's now pretty much unusable if you're not on a mountain bike because it's such a rough surface."
Riders using the busy main road instead have been getting "abuse" from drivers who cannot understand why they are not on the cycle path, said Mr Breeze.
"It's very difficult to convey the fact that you're riding on the road because you can't ride on the cycle path.
"They see the cyclists on the road and think, all that money's been wasted on that cycle path and it's not being used."
The route runs through an Area of Outstanding Natural Beauty (AONB).
The Northumberland AONB Coast Partnership advised a buff-coloured surface would be appropriate but said it did not specify a particular covering.
Sustrans North East network manager Tom Bailey said: "Sustrans and the council accept there's a problem which has affected the usability of the path.
"It needs to be just as usable on a road bike as it would be on any other kind of bike."
Contractors were due to return for a third time to sweep the path and leave "no loose material whatsoever", Mr Bailey said.
The council said the new surface just "needed a period to stabilise", which depended on weather conditions.
"The council did receive some complaints when the surface was first laid but has received one complaint in recent months," a spokeswoman said.