Sunderland's Roker Pier restoration granted £545,000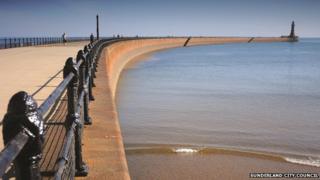 Restoration of a Grade II-listed pier in Sunderland is to be completed thanks to more than £500,000 of funding.
Roker Pier suffered damage after being battered by the sea for more than a century, prompting a £1.35m project to restore it to its former glory.
Sunderland City Council has been granted £545,000 from the Heritage Lottery Fund to complete the project.
The grant will be used to restore the lighthouse and the tunnel underneath the pier.
It is then hoped the tunnel, which was used by the keeper to reach the lighthouse in bad weather, could be opened to the public.
The start of the project saw the lantern house on top of the lighthouse refurbished and the entire length of the pier resurfaced for the first time in its history.
The 1,998ft (609m) long structure was described as a triumph of engineering when it opened in 1903.